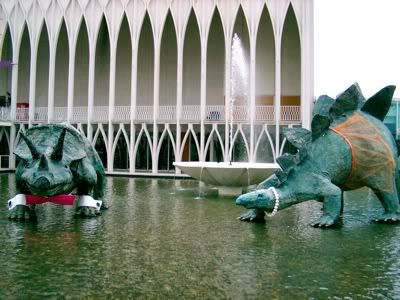 [Finals are over! WHEEE! Big serious essay today! Cosmocking next!]
I talk a lot on this blog about how sex should be dictated by what the partners want and the most important thing is to communicate and respect everyone's desires. And I totally stand by that, but I also know that it's not always that simple. It's not something I do flawlessly in my own life, that's for damn sure.
Because I am not always sure what my desires
are
. My sexuality sometimes seems frustratingly opaque to myself. I want
something
, I don't just want to kiss my boyfriend good night and go to sleep, but what on Earth
is
that something? Why don't I know what I want?
I have been taught not to credit my own desires. In part that's personal--one of the most insults I've been subjected to was "you're so selfish, all you want is the things you want!"--and in part it's cultural. The socialization of young women is all about how to not indulge your desires: don't choose food because it tastes good, don't choose clothing because it's comfortable, don't come on too strong to boys, don't be a needy girlfriend, don't say "no" too stridently or "yes" too enthusiastically. It's not the charitable or ascetic kind of self-denial, but there's a lot of desire-denial, of doing things
correctly
instead of
the way you want
.
(I don't think that young men have it so easy either--it's not the same but it's fucked up in different ways--but I don't have much personal experience with being treated like a young man. My impression is that guys have more permission to express "acceptable" desires, but there's a pretty narrow range of which desires are acceptable.)
And sometimes when you do break through, when you do the things you want, it's impulsive. It's not gourmet cooking but a binge on raw cookie dough. It's not an ethical-slut lifestyle but a furtive tryst with a stranger. It's not truly escaping repression, it's just acting-out. It lets you indulge some of your more primal desires, but it doesn't let you lucidly understand them.
But now you're done with that crap. You're not crowd-following
or
acting-out any more; you're committed to dealing with sex like an adult. You read feminist sex blogs. You have self-respect and you're ready to respect your desires. ...Now what?
Simply saying "that was all bullshit! have the sex you
want!
" isn't going to cut it. Maybe intellectually, but not emotionally. Here I am all prepared to acknowledge and communicate my desires, and my desires are... uh... hm. I'm so used to putting the
"no it's bad and selfish to want things"
mental block between my desires and myself that I don't even
know
what's on the other side.
So here are some questions I've started asking myself.
"What do I fantasize about?"
It took years (okay, the years from 12 to 17, but still, those are years!) for me to go from masturbating while fantasizing about scenarios of sexual submission to realizing that I was
into
sexual submission. I know it sounds silly, but I hadn't really made the connection between "thing I like to think about" to "thing I want to
do
."
"What are my best memories?"
Kevin only held me down and spanked me once, ever, in a yearlong relationship. It still stands out in my mind as the best sex we ever had.
"What am I fascinated with?"
Another thing I did when I was a teenager: I used to read a lot of blogs and websites about kink, thinking that I was merely curious about this strange world I'd discovered, nothing personal, just something I took a detached academic interest in. (Hi there, by the way, if you're reading this with detached academic interest.) I had the same experience with healthcare, interestingly--I was reading medical textbooks "just for fun" before I realized it was a field I would actually enjoy working in.
"What am I stopping myself from saying?"
I've had a lot of conversations with partners that started "I... no, never mind, I shouldn't bother you with this, it's silly." (Sometimes in my head, sometimes out loud, which is my way of forcing myself to continue the thought because very few boyfriends will go "oh, okay then" to an opener like that.) They usually turned out to be
really really important
conversations once I broke through that.
The obvious extension of this is "What do I say when I'm drunk?" Which is not the safest (emotionally as well as physically) way to get your truths out, but it sometimes works.
"What's the bad, obviously incorrect idea I came up with off the top of my head, the one that's weird and gross so I'm trying to revise it so it doesn't sound ridiculous?"
Pretty much always, that's the truth.
"What would I want?"
Imagine you were in Magical Fairy Land where you could have anything you wanted and a genie would give it to you and there would never be any consequences--what would you want
then
? Yeah, that's probably what you want now too.
"Let's try this once and see how it goes."
Sometimes you can't learn without experimentation. So I can't treat everything like a declaration or a commitment. Sometimes I have to give myself permission to say (and to make sure my partner knows too), "hey, this might not work out, I might need to stop it halfway through, but I won't know until I try it." It's almost impossible to be right without having a space in your life where it's okay to be wrong.
I'm not promoting selfishness here. Knowing what you want doesn't mean always
doing
what you want; if you want polyamory and your partner is monogamous, or if you want to tie up your partner and they're terrified of that, then your job is not done here. You still have to negotiate and compromise and possibly sacrifice some of your desires. But you can't even
start
that process until you know exactly what you're negotiating
about
, and that requires you to know exactly what your own raw, impractical, selfish desires are.
Me, I want four things real bad right now:
1) To have boy clothes and do boy things and sometimes be a boy in sex, but to still be a woman in the end--a really boyish woman.
2) To focus deliberately on reaching altered states through sex and BDSM, rather than having it just accidentally happen to me.
3) To be a primary to my boyfriend. Which I am, no question, but it's something I want to keep happening and to feel secure in.
4) To get fisted, like,
all
the time. Oh man is that just the awesomest thing.
And even after all this preaching I've been doing, typing those out was hard, and pressing "publish" without deleting them was harder. This "wanting things" business is a tough skill to learn.