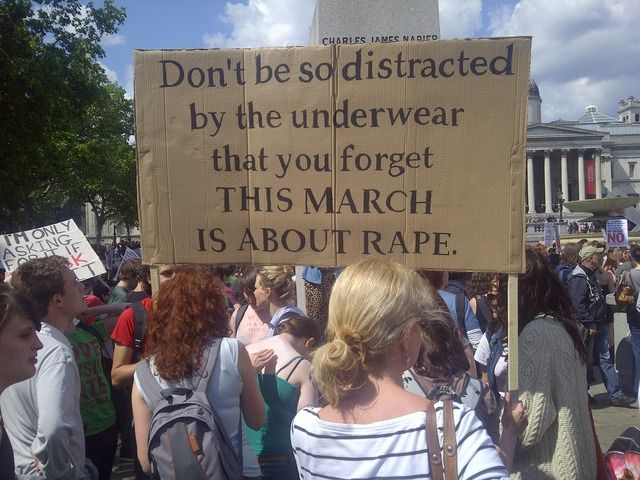 [Trigger warning for rape and BDSM abuse.]
I went to a sex party not long ago. I talked to a bunch of the members and organizers of the group, and heard all around that they really value consent and they're super aware of feminist issues and the danger of abuse in sex-positive spaces. I had a pretty good time, met a lot of people, hooked up with a dude, fit a humorous number of naked people people in a bathtub at the same time.
Days later I found out, almost incidentally, that one of the guys at the party had been ostracized from another scene for "some problems." Some problems with boundaries. I was a little ticked that no one had identified this guy to me.
Later still, I found out that the guy had raped a woman.
Oh, but, like, she only
said
he raped her and no one was there to see it and it was really confusing and stuff and anyway what do you want us to do, like, treat the guy like a
leper
? He got kicked out of one scene already and that was like a couple years ago and we're trying to help him change and now he's okay as long as someone keeps an eye on him at parties.
Originally I had written a rant here. I'm angry about this, is the short version. I'm quite angry. I'm angry because this isn't the first time I've been around a known abuser and nobody told me; I'm angry because I've been abused under the aegis of BDSM; I'm angry because so damn many of my friends have been abused in the scene; and I'm angry because if I used the guy's name in that story above,
I'd
be kicked out of the scene.
If you want the long version, Yes Means Yes
spells it out here
, in a post I think
everyone
in the BDSM/swinger/sex-positive communities should be reading.
The first step is admitting we have a problem. And we do have a problem. I'll skip to the end: there's no shortage of stories that start "I was abused" and end "when I tried to say something the community closed ranks around the abuser and I was frozen out." It's happened to friends of mine. It's happened in communities where people insist that the community isn't like that. And almost always, you have to actually know the participants to know what happened because nobody talks about it. It's all secret, there's no sunlight and no transparency. You, you out there on the internet, can search blogs until you're blue in the face for a record of some of these stories, or some indication that you shouldn't play with some of these people, and you'll never find it. Even when "everybody knows," the "everybody" is very narrow.
And much more. Go read it.
In the meantime, I
like
the BDSM scene. I
like
the sex-positive scene. I love that spaces exist where I can be myself and spend time with people like me. I don't want to leave. I especially don't want to leave and let the abusers have it.
I also don't know how to fix it. I find the efforts to do so alternately inspiring and utterly frustrating. I understand the problems that "expose and expel anyone with any accusation against them" would create and yet I hate the default solution of "therefore, keep all abuse secret and consequence-free." And I also understand that anything framed in terms of accusations is only cleanup after abuse has
already
happened--a real "fix" would cut down how much it happens in the first place.
I have a few small suggestions that don't require involvement in the question of accusations*:
1. Let new people know the scene is dangerous.
Newcomers shouldn't be hearing "BDSM is all about consent." Newcomers should be hearing "BDSM should be all about consent, but there are a few people here who won't respect that, and
we don't know who they are
." We shouldn't be teaching new people to relax and take it all in stride; we should be teaching them to be wary as hell. I'd rather feel like I'm scaring people off than feel like I'm luring them in.
2.
But don't assume all newcomers are only potential victims;
newbie education should also include teaching people how not to become perpetrators
. (I'm going to hopefully write my own thoughts on this soon.) For three reasons:
a) It may, in fact, prevent some of them from becoming abusers.
b) Seeing things from the other side may make them better at recognizing abuse.
c) It takes away the "I didn't know that was a problem" excuse in a hurry.
3. Make audience-visible consent a part of BDSM classes and demonstrations.
I've seen this done right a few times and wrong a lot more. Right is when the presenter negotiates with their demo-partner right there in public, or makes it explicit to the audience that they've negotiated privately. Wrong is when the presenter just jumps right into throwing rope (or whatnot) on their demo-partner, and as far as the audience can perceive, the "consent" is that the demo-partner doesn't safeword or run away. Wronger than wrong, and not at all rare: the presenter gets "playful" with their demo-partners (or audience members!) in ways that clearly
weren't
pre-negotiated even in secret.
Taking thirty seconds to make it clear that you
always
ask, you don't skip it because "it's just a demo" any more than you skip it because "I know they'll like it," would make a big difference in BDSM education.
4.
Most parties have special rules that you have to talk to the host about before doing fireplay and bloodplay--the host will direct you to a location where you won't set the house on fire or ruin the carpet, or simply say "no, we don't have facilities for that, this is a no-fireplay party." We need to have these same
rules about resistance and "consensual nonconsent" scenes
. If you're going to do something that looks just the same as abuse, you should be required to run it by the host first.
That way, if a host sees something that looks just the same as abuse, even if they're afraid/unable to shut it down with a "hey, is that consensual?", they have an excuse to shut it down with "hey, you didn't get clearance to do that!"
5. Get survivors to real resources.
I
don't
think we should be creating internal, informal resources in our community for this. The "we'll handle everything internally and informally" mindset is how we got in this mess in the first place. What I do think we should be doing, however, is making a concentrated effort to connect abuse survivors with resources like the following:
The Boston Area Rape Crisis Center
The Network/La Red
(GLBTQ- and kink-friendly organization against partner abuse)
The National Leather Association Domestic Violence Project
The National Domestic Violence Hotline
The National Sexual Assault Online Hotline
And, frankly (although I know damn well
the barriers
there can be):
The Fucking Police
When people report abuse, we should be referring them to outside, professionally run organizations with trained specialists who can help them through the painfully complex process of decision-making and escape and recovery. We should
not
be encouraging them to keep it in the community. We see everywhere from churches to colleges to the military what happens when abuse survivors are told "we'll handle that internally," and it's
always
crap. Let's handle this shit externally for once.
The first step is to admit we have a problem. So in a way I'm
glad
to see my community doing that. Even though it's upsetting and causes a lot of strife in the short term, I'm really happy to see all these conversations about the dark side of the BDSM community coming out in the open. I just hope we can go from conversations to actual
change
.
*I really fucking hate saying "accusations," by the way, when I think it's "reports," and I fucking hate acting like it's a big tough question. As far as I'm concerned I know the vast majority of these accusations are true and that not inviting someone to sex parties is such a mild goddamn punishment we should just fucking do it when we know damn well someone is a fucking rapist. But I'm never going to sell that opinion to the community.