[Helen Gurley Brown, the editor-in-chief who transformed
Cosmopolitan
the general interest magazine into
Cosmo
the blowjob advice repository,
has died
. I don't want to say much more about that. I won't tolerate any dancing on graves, but I also don't want to fall victim to "since she's dead we need to be nice," and ultimately none of this is my place. I just read the magazine and make fun of the blowjob advice.]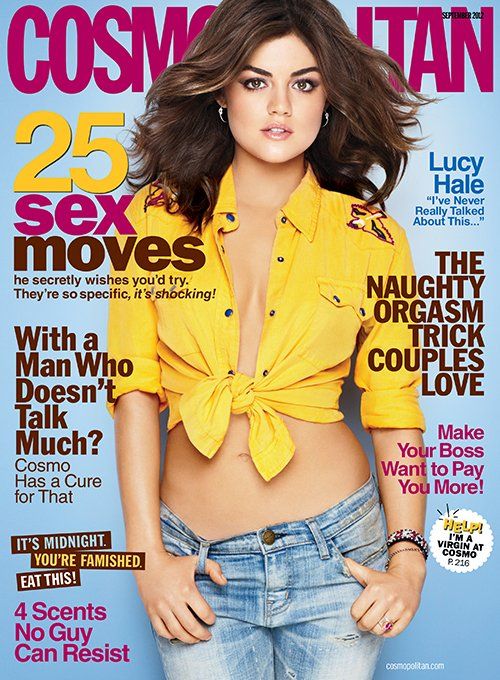 Blue cover! Lucy Hale! With a distressingly featureless and strangely asymmetrical lower abdomen! I love the idea that tummy pudge and stray hairs are too hideous for human eyes, but Alien Putty Bellies are A-okay! 25 sex moves "so specific, it's shocking!" Oh good, I hate general sex moves like "touch him in a place with a thing!"
"I was on a first date with a girl and wasn't paying attention as I was crossing the street. A car went zooming down the road, and the girl actually had to pull me back and act like the hero. It was pretty emasculating."
"My date saved my life. How terrible for me! I mean, now how am I going to prove I'm superior to her?"
Q: Sometimes my guy gets so intent on making me climax that it starts to hurt. How can I let him know when it's just not going to happen?
A: If he's made it his mission to bring you to climax, there's no good way to let him know that he and his soldier have failed. Luckily, there's one thing that will almost always distract guys from your potential orgasm, and that's their potential orgasm. So if he's been giving you oral for longer than is comfortable, grab his hair, pull him up, and tell him you want him inside you.
I know I've said this before, but: this isn't sex tips. This is survival techniques. This is how you handle an abuser so he'll cause the least amount of damage to your body and the ordeal will be over with as soon as possible. Sorry to get all serious in a Cosmocking, but if you can't tell your boyfriend to stop hurting you, and if you're offering him sex in order to avoid physical pain, that's... holy fuck, Cosmo should not be presenting this as normal and healthy.
If you ask him out on a second date, he'll likely feel emasculated... and that's pretty much the worst thing you can do to a guy.
It's gotta be inconvenient having your gender role defined by what someone else does. You're going along, being all masculine, and then your date fucks it up and breaks your masculinity so you have to be feminine! And you don't even own a decent pair of heels so then you have to go shopping! Talk about a pain in the neck!
[Cosmo tells its readers how to blog:] Use the same keywords in all your posts. For example, if you blog about vegan cupcakes, you want the words "vegan cupcakes" in each entry.
Well, that doesn't sound BDSM annoying at BDSM all! I should BDSM start doing that and BDSM actually I'm going to stop before this post gets spam-filtered off everyone's feed.
During doggie-style, playfully turn around and say something like "Is that as hard as you can go?" Game on.
Ow. I mean, hey, hard pounding's fun sometimes, but there's no "if you want it" in here. It's about what's Sexiest, not about something as frivolous and unreliable as your own desires! You should be willing to endure a little vaginal pain in the service of Sexiness, ladies!
Because if you're Sexy, then you get to have more sex, and that means that you get more vaginal pain... wait, shit. We didn't think this through.
I think the fundamental problem in this issue is that Cosmo is all about living up to abstractions. A man shouldn't be happy (or even safe), he should be Manly. A woman shouldn't be pleasured (or even comfortable), she should be Sexy. They're pure, platonic ends in themselves, completely divorced from any concept of human happiness or fulfillment. You work your ass off on becoming and staying manly/sexy, and you reward is... being manly/sexy. I guess if you're manly you're supposedly more likely to attract sexy mates, and vice versa, so maybe that's a perk if you're into that sort of thing.
I'm not into that sort of thing, myself. It's a weight off my shoulders like you wouldn't believe. I'm not manly, I'm not sexy, and yet somehow I manage to feel plenty masculine and have pretty good sex. Seeking happiness directly, instead of through the proxy of perfect gender performance, is confusing and often unglamorous and completely worth it.
And you hurt your vagina a lot less, too.