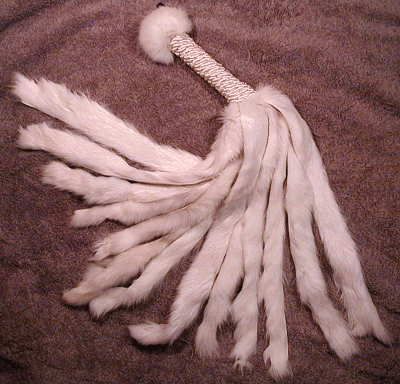 The Dreaded Bunny Flogger. It still counts.
Last night, Rowdy and I did BDSM play and had sex. What mental image does that give you? What activities do you think we did?
The truth is, he bit me a little bit and then fingered me while I rubbed his dick. Then we went to sleep.
Even as I write this, I feel like self-justifying, like telling you about the times I've gotten my skin stapled or been locked in a dog cage or flogged on a St. Andrew's cross or triple-fisted by satyrs or whatever exactly happened at that barbecue. I gotta keep my
cred
! Can't be a
prude
, can't be a
poser
! Gotta let you know I'm
real
, I have
real
sex and do
serious
BDSM!
What a load of horseshit that attitude is. There's no objective definition of these things, no standard you need to measure up to. Your own pleasure and your partner's should be the only things that matter. If you don't get pleasure from being the sexiest and the naughtiest and the edgiest, that's
okay
.
Kinky snobbery isn't just irrational, it's dangerous. When your guideline stops being "what will make me feel good?" and starts being "what will prove my sexuality is genuine?", you're liable to do things that don't make you feel good. You're also vulnerable to manipulation from people who try to convince you that if you were
really
kinky you'd XYZ with them, or people who say you're not having "real sex" because they want to rush you into intercourse. And there's the danger of skipping negotiation and safewords (or worse, not taking safewords seriously) because you don't think a certain type of light play is "real" enough to need them.
Here's some things that can be
real
sex:
• Phone sex
• Mutual masturbation (I never know if this means "wanking each other" or "wanking in front of each other," but, eh, either way)
• Dry humping
• Wet humping
• Sharing fantasies
• BDSM play without genital contact
• Particularly intense kissing
• Literally
anything
you and your partner agree is real sex for you
And here's some things that can be
real
BDSM:
• Gentle spanking during sex
• Tying up just for the tying, without hitting or fucking
• Getting someone's drinks for the evening
• Teasing with a feather, a finger, or, yes, The Dreaded Bunny Flogger
• Playing the role of a servant, puppy, Girl Scout, etc., but doing nothing physically intimate while in role
• Sending pervy emails and IMs
• Getting hit just once or twice and not wanting/needing more than that
• ...sigh... toilet paper bondage.
• Literally
anything
you and your partner agree is real BDSM for you
There are some distinctions within BDSM that do matter. Socially-acceptable BDSM (i.e., playing with an ice cube) is not the same as you-could-get-arrested BDSM (i.e., bloodplay), and bedroom or online BDSM are not the same as being in the meatspace BDSM community. It's important to remember that experience and expertise don't translate well across these divisions. But none of the divisions of Kinkland are "better," and all of them are really kinky.
I want to take back all the times I yelled at Cosmo, "That's not kinky!" What I should have been yelling is "That's kinky, but it's
really irresponsible
!"