White cover! I always like the white covers, they're so much nicer than the ridiculous screaming-neon-colors ones! Fergie! Right after Kim Kardashian, too! Cosmo's really classing it up here! The word "SEX" is in 45-point type, I measured! Fergie is so Photoshopped her neckline appears to be hovering in a totally different plane of reality from her chest!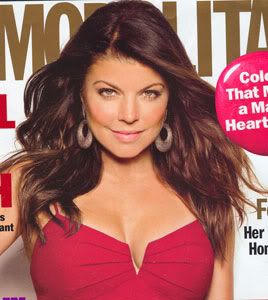 Also, she is the Joker.
Hm, as long as I've got the scanner out, I think I'm gonna save myself some typing on this one.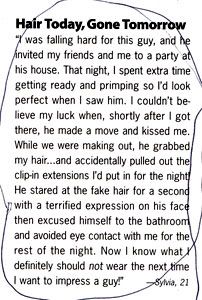 This is a common theme in Cosmo "embarrassing stories"--as soon as something goes wrong, no matter how minor, the object of your affection will just fucking vanish. There's no laughing it off and there's not even any words you can say--they just back out in open-mouthed horror like they walked in on you fucking the dog.
I've had guys continue to mack on me after they've
watched me vomit
(CB, wherever you are, you are a true man's man), so if a little thing like hair extensions takes him from 60 to 0, he has some serious "DOES NOT MEET MAH STANDARDS" issues. It's also pretty harsh to ditch a girl for wearing cosmetics--obviously a girl with no cosmetics isn't appealing to this type, so what the fuck was she supposed to do? I guess she's supposed to create an illusion of natural perfection and seamlessly maintain it.
Meanwhile he's supposed to wash his face and maybe shave.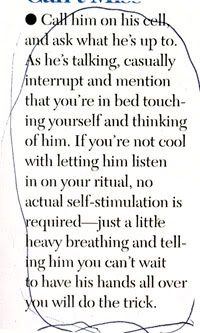 Gosh, what's in it for me then? Faking arousal for his benefit while I sit there with my pants on sticking my fingers in a jar of grape jelly for the sound effects is something I'd do for $1.99/minute, but it's not something I'd do in a relationship. Partly because, shit, I'll masturbate in front of anyone who won't call the cops about it--but also because being dishonest about something like that would make me feel all hollow and weird. What's the
point
of having a sexual relationship if it isn't genuinely sexual for both of us?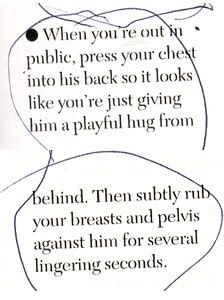 "Subtly."
"GET A ROOM, HUMPASAURUS REX!"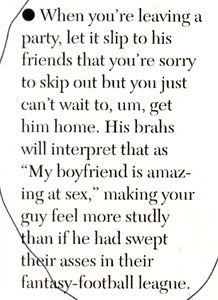 I'm not sure if this advice is terrible or not, but I do know that it's
classy as fuck
.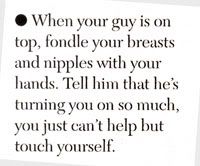 This is so, as Twisty would say, pornulated. And it brings up the "what, am I getting paid?" issue again. If I'm groping my own breasts during sex, it's because they're fucking aching for it and touching them feels so fucking good. Or because he likes seeing me like that, don't you, you naughty boy. But I don't do it to make him think that he's sexy. (Doesn't that imply that he's actually
not
?)
There's a whole article on the noises men make during sex. The frustrating part is, after every category--the grunter, the moaner, etc., "your move" is how to get him to
stop
! Why the fuck would I want to do that? It's primal, it's beautiful, and it means he fucking loves it! The article is written as if my partner's ecstasy is some sort of petty annoyance to me.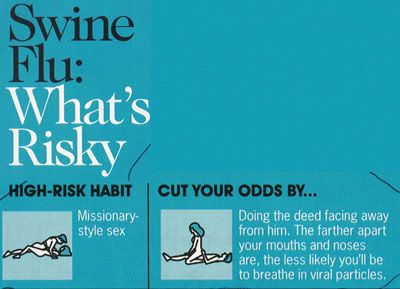 And they say Cosmo isn't topical.